I made my own travel arrangements and did not go through an agency. Can I still insure the trip?
Yes, all of our policies may be purchased by those making their own travel arrangements.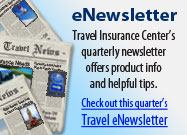 I am going to multiple destinations. What should I use for the Primary Destination?
Simply list the country you will spend the most time in. That's fine, you will be covered in all other countries you visit as well.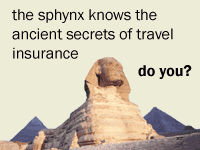 How do I determine the total cost of the trip?
You should insure only your prepaid and non-refundable trip cost. Do not insure your expected additional expenses you will be paying for while on the trip.
Does Medicare cover foreign travel?
No, Medicare does not provide coverage while outside of the U.S. You should purchase travel insurance for possible medical emergencies while traveling outside of your home country.
Why do I need a travel protection plan if I have credit cards that include travel insurance?
Travel insurance from credit cards is usually limited to coverage for car rental damage, flight accidents or for accidental death while you are traveling. Also, this protection is in effect only when you pay for travel with that particular credit card.
Most credit cards do not offer any coverage for travel medical expenses, evacuation costs, or trip cancellation expenses.
Will travel insurance protect me if my trip needs to be cancelled because of terrorist activity?
Many plans do offer Trip Cancellation and Trip Interruption for a "Terrorist Incident" that occurs in a city listed on your travel itinerary prior to or during travel. Check the policy details for specifics or just call us 866-979-6753